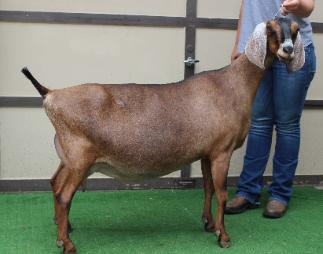 4 Year Old 3rd Freshener
3-04 VG89 VEEV
Sire: SGCH +*B Engylskye Countof Monte Cristo "Elite"
SS: SG +*B Kastdemur's Monte Carlo
SD: SG Wingwood Farm Tempo Aurora 3*M
Dam: GCH My-Enchanted-Acres Molly Brown 7*M
DS: SGCH +*B Copper Hill Breakaway Sonset
DD: SGCH My-Enchanted-Acres #1 Arianna 6*M
Missy, as she is affectionately called, is the full genetic sister to our 2015 National Reserve Junior Champion, RNBOSkitles. Looking at the 2, they are as different as night and day. But upon closer inspection, you will see the same correctness in general appearance, dairy strength and hopefully, once Missy freshens in the spring, the same beautiful mammary. We absolutely adore this young doe and look forward to seeing her fresh.
* 2019- This year saw Missy fighting for her life after a horrendous kidding, where she lost 3 of her 5 kids. We were able to get her back on her feet for LA, but decided to give her the much needed rest she so badly deserved. She has come back strong and we hope to have her back in the show ring next year.
It was with heavier hearts that we laid to rest our sweet Missy at the same time as Style. We lost Missy before the vet could even be called, due, we feel, to her aborting her babies a few weeks earlier. Of all 3 sisters Missy was easily my favorite. You just weren't here long enough girl to show what you were made of. RIP sweet girl.
PTI 2:1 0
PTI 1:2 -71
ETA 2:1 5
ETA 1:2 -63
1-11 290 1807 (5.7)103F (4.5)81P
3-01 186 1099 (5.0)55F (4.3)47P
4-02 133 834 (5.6)47F (4.2)35P
2019
Missy had a nightmare kidding where we almost lost her. Though we kept her milking, her low production reflects what she went through. We hope to have Missy up to full production next year.
2018
1st w/2nd Udder Clark Co Fair
2nd w/2nd Udder SWW Fair
1x 4th Evergreen State Fair

GCH My-Enchanted-Acres Molly Brown 7*M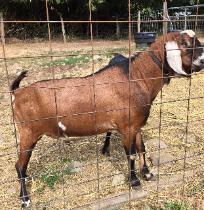 +*B SGCH Engylskye Countof Monte Cristo "Elite"
(Photo courtesy of Judy Bevaart
of Blossom-Thyme Nubians)