How to explain our total love for this incredible doe. We knew she was something special when she was born. She showed that in the show ring as a kid. Then she continued her incredible journey of showing, by being undefeated in the showring, as a dry yearling going 2x Best Junior Doe in Show, 2nd place dry yearling at nationals and to top her year off, was picked as the INBA Reserve All American Dry Yearling. So, you must understand our nervousness when the time came for her to freshen. You know, the curse of the Junior Champion. It did not follow Molly. She freshened with a beautifully attached, high, wide ear udder with a very smoothly blended fore udder. To say that she is an improvement over her dam, is an understatement and Arianna has a beautiful mammary. Molly has set the bar for this herd to follow. She is the epitome of what a Nubian should look like in our eyes. Now for the first show. Let the excitement begin.
Molly is now retired from the show ring, but continues her place as our top brood doe. She continues to amaze us with the progeny she produces. We gave Molly 2017 off after back to back quintuplets. We feel that giving Molly a year off was the right thing to do. She is looking awesome this fall and now has been bred to Monte for March kids.
*Molly will now be officially retired from breeding. She has proven herself in the show ring and as a brood doe, and will now live out the rest of her years happily greeting visitors to the farm.
**You know when your does age, their time with us becomes limited. Saying goodbye to them, when that time comes, can be hard on our hearts. GCH My-Enchanted-Acres Molly Brown lived a good, long life. She kidded her last babies at age 11, putting 23 kids on the ground over her breeding years. She outlived quite a few of those kids. These last years, she's lived a wonderful, retired life. There is so much I could say and so much to brag about this doe, but truthfully, nothing would come close to explaining the love I had for my sweet Molly. We found Molly curled up next to her best buddy yesterday morning. She went out how she lived. With quiet dignity. RIP my girl. You left a legacy. Your days here are done. **
7-04 EX90 VEEE
6-05 VG89 VEEV
2-06 VG89 VEEV
1-04 V VVV


2-00 234 1380 (5.5)76F (4.2)58P
2-11 240 1910 (5.0)95F (4.1)79P
4-01 206 1740 (5.1)89F (4.1)72P
5-11 233 1780 (5.4)97F (4.2)76P
6-11 194 1560 (5.1)80F (4.3)67P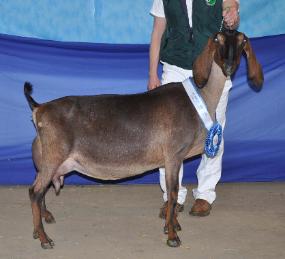 4 year old 3rd freshener
Reserve Champion & BUOB
District 7 Nubian Specialty


Best Jr Doe in Show out of 114 Junior Does - Central WA Fair
Jr Champion - WW State Fair Puyallup
Jr Champion - Evergreen State Fair
2nd place Dry Yearling - 2009 ADGA National Show
Best Jr Doe in Show - Clark Co Fair
2010
3x 1st NWABGC Show
1x Res GCH
2x 2nd pl 2 yr old - Boise Show
2x 1st pl 2 yr old - NWODGA Show
1x 1st, 1x2nd - NEWDGA Show
2x 1st - SWWDGA Show
1st pl 2 yr old - SWW Fair
1st pl 2 yr old, Res GCH, Best Udder of Breed - Evergreen State Fair
3rd pl 2 yr old - WW State Fair Puyallup
1st pl 2 yr old - Central WA State Fair
2012
2x 1st NWODGA Show
District 7 Nubian Specialty Res GCH & BUOB
Res GCH - NWABGC Show
GCH Evergreen State Fair
GCH, BOB, BUOB - WA State Fair
2014
BOB - Evergreen State Fair
2015
Molly has been retired from the showring. She has more than proven herself and will live out her life as befitting the queen of the herd that she is.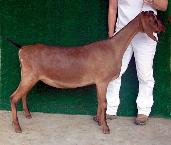 Molly - Dry Yearling
Reserve All American
Dry Yearling - 2009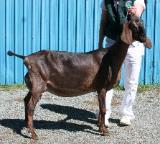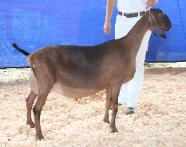 2 year old 1st freshener & 3 year old 2nd freshener
Sire


SGCH +*B Copper-Hill Breakaway's Sonset
Dam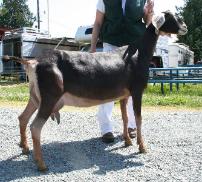 SGCH My-Enchanted-Acres #1 Arianna 6*M